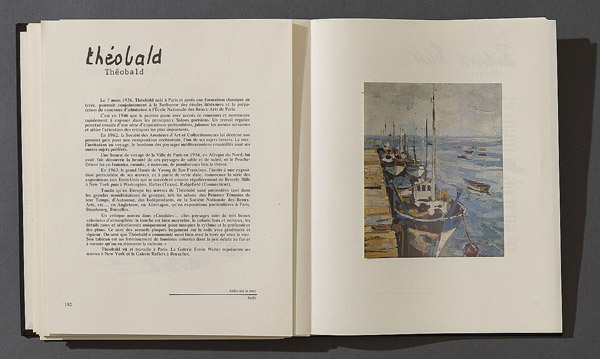 Shows and Group Exhibitions
While preparing for exhibitions overseas, Théobald remained loyal to shows (« Salons ») which, year after year, showcased trends of French paintings in Paris. Whether it be the National Society of Fine Arts ("Société Nationale des Beaux Arts"), the Independents' Show ("Salon des Indépendants"), the Fall Show ("Salon d'Automne"), Comparisons ("Comparaisons"), Latin Lands ("Terres Latines"), Today's Greats and Young ("Les Grands et les Jeunes d'aujourd'hui"), the Navy Show ("Salon de la Marine"), the Drawing and Water Color Show ("Salon du Dessin et de la Peinture à l'eau")… She partook in group exhibitions such as the Young Painters' Show («Salon des Jeunes peintres ») in the 1950's, the Selection of the Pacquement Prize (« la Sélection du Prix Pacquement ») at the Modern Art Museum of Paris, and Painters Witnessing their Time ("Peintres Témoins de leur Temps") at the Galliéra Museum, in Paris.
In the 1970's, Théobald was a member of the Euro Painting Group in Frankfort, Germany. Her art was exhibited among that of French Artists in Montreal. The Guilhall Gallery of London also selected some of her paintings for an exhibition. Her art is showcased in Brussels along with that of Hilaire, Margotton, Toffoli… at a show entitled « Masters and Young Masters from the School of Paris » (« Maîtres et jeunes maîtres de l'Ecole de Paris »). Finally, she was one of the Painters Witnessing their Time (« Peintres Témoins de leur Temps ») in Japan.
Théobald partook in the first French art exhibition at the Museum of Fine Arts in Koweit, as well as in the first French contemporary art exhibition at the Pushkin Museum in Moscow and at the Hermitage Museum in Saint Petersburg. Starting in 1972, she also became a regular of group exhibitions organized by Marubeni in Tokyo.
Later, in the 1990's, Théobald was one of the French painters selected to be presented in Beijing and in Shanghai. She further participated in an exhibition entitled « Fifty years from the School of Paris » at the University Museum of Southern Illinois.